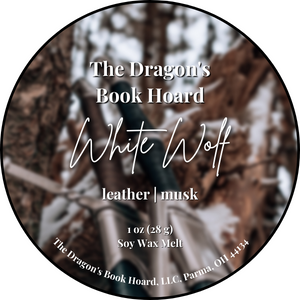 "Evil is Evil. Lesser, greater, middling… Makes no difference. The degree is arbitrary. The definition's blurred. If I'm to choose between one evil and another… I'd rather not choose at all."― Andrzej Sapkowski, The Last Wish (The Witcher Series)
This scent was inspired by Geralt of Rivia from The Witcher series! When not covered in monster guts we think that Geralt would smell earthy and musky. This candle is perfect for those that like candles that "smell like men" with its very masculine hints of musk and smoke. Melt this wax melt when you binge-watch the series or when you're relaxing in the bath.
Scent:
Smoke and wood from campfires, warm amber, musk, and a hint of leather.
Color:
When melted this wax turns a shimmering white gold.
Colors may vary slightly.
About our wax melts:
- 100% soy wax
- Shimmer when melted
- Handpoured with love
- Net Weight 1 oz (28g)
- Let melt for 2-4 hours at a time. Do not leave unattended, especially in areas with children or pets.
- Please note that wax will be hot when melted. Please do not touch to avoid the chance of burns.