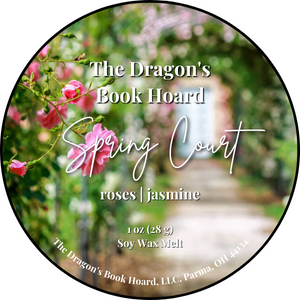 "'I love you,' he whispered, and kissed my brow. 'Thorns and all'."
― Sarah J. Maas, A Court of Thorns and Roses


This scent was inspired by Sarah J. Maas' detailed world of A Court of Thorns & Roses. The first place we are introduced to outside of the comfort of Feyre's home was the Spring Court. Let's forget about Tamlin and let's remember the lush gardens, clear water, and rolling hills of the Spring Court!

Scent: Roses, Jasmine, Carnations, Lily of the Valley, and Vanilla

Color: When melted this wax turns a shimmering rose pink.
Colors may vary slightly.


From A Court of Thorns and Roses, by Sarah J. Maas, © 2015. Artwork by The Dragon's Book Hoard. Created with permission of Writers House LLC acting as agent for the author.
About our wax melts:
- 100% soy wax
- Shimmer when melted
- Handpoured with love
- Net Weight 1 oz (28g)
- Let melt for 2-4 hours at a time. Do not leave unattended, especially in areas with children or pets.
- Please note that wax will be hot when melted. Please do not touch to avoid the chance of burns.