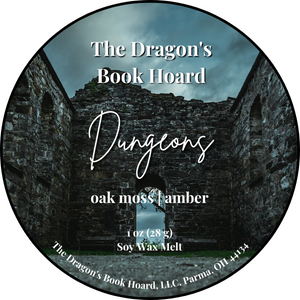 Adventure into the depths of the Dungeons... what will you find? We're not sure if you'll find any dragons and treasure but we do know that'll you'll find this to smell cool and earthy. This candle reminds us of the musky cool tunnels traveling through unknown dungeons.

Scent: Moss, amber, sage, lavender

Color:
When melted this wax turns a shimmering deep green blue.
Colors may vary slightly.
About our wax melts:
- 100% soy wax
- Shimmer when melted
- Handpoured with love
- Net Weight 1 oz (28g)
- Let melt for 2-4 hours at a time. Do not leave unattended, especially in areas with children or pets.
- Please note that wax will be hot when melted. Please do not touch to avoid the chance of burns.