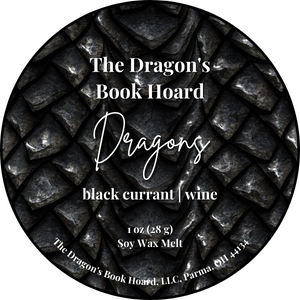 Rough and rugged scales glistened against the light of the torch... they showed signs of a long life lived with more stories than a library could ever hold. Dragons are captivating and mysterious creatures, just like our candles. Dragons features tones of black currant, vanilla, and saffron for a winey and fruity concoction.

Scent: black currant, deep red wine, saffron, vanilla
Color:
When melted this wax turns a shimmering red with golden glitter.
Colors may vary slightly.
About our wax melts:
- 100% soy wax
- Shimmer when melted
- Handpoured with love
- Net Weight 1 oz (28g)
- Let melt for 2-4 hours at a time. Do not leave unattended, especially in areas with children or pets.
- Please note that wax will be hot when melted. Please do not touch to avoid the chance of burns.