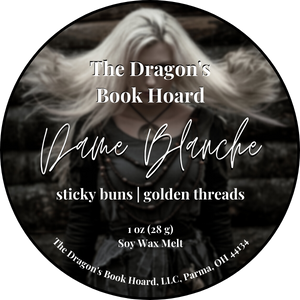 "I was no one's sacrifice. Not then. Not now. Not ever."― Shelby Mahurin, Serpent & Dove
This scent was inspired by Shelby Mahurin's female protagonist, Lou LeBlanc, in the Serpent & Dove series as well as the French folklore of the White Lady and the French dessert. This scent features hints of cinnamony sticky buns, sweet vanilla, and magic with consequences. *it is not affiliated directly with the author or series, it is just an inspiration of her writing*
Scent:
cinnamon, vanilla, cardamom, cream
Color:
When melted these wax melts turn a shimmering black with gold flecks.
Colors may vary slightly
About our wax melts:
- 100% soy wax
- Shimmer when melted
- Handpoured with love
- Net Weight 1 oz ( g)
- Let melt for 2-4 hours at a time. Do not leave unattended, especially in areas with children or pets.
- Please note that wax will be hot when melted. Please do not touch to avoid the chance of burns.